Fleet Tracking Solution GPS Vehicle Tracker with Geo Fence
(2 years warranty, Free Tracking Platfrom (web base & Android),CE & RoHS & SGS certification)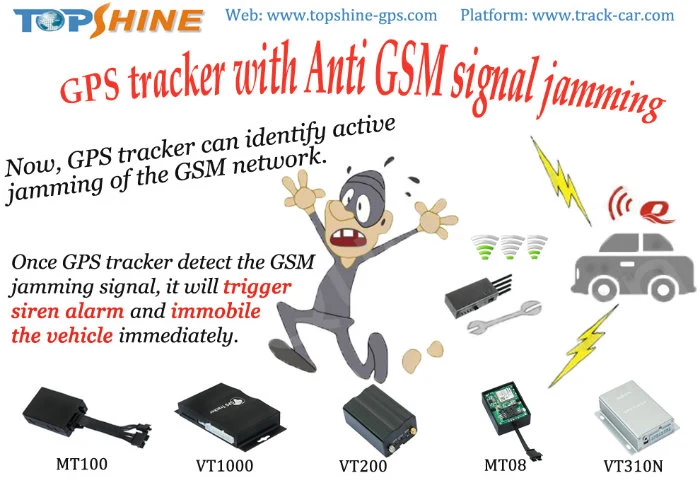 Products Overview
Anti jammer RFID tracker VT1000 is a most advanced and high-cost effective GPS tracker, it is equipped with ARM7 high speedy microprocessor; 4 A/D connectors for multi fuel sensor monitoring; Support unique active RFID for automatic anti-theft and driver identification; Support OTA(upgrade over the air) for upgrading new firmware by GPRS if needed; With harsh braking&acceleration alarm and accident alarm; And many useful functions and extensibility for fleet management and vehicle security purposes.


Feature
| | |
| --- | --- |
| Support 2G 3G 4G network | Fuel stolen alarm |
| GPS tracker + RFID car alarm | Harsh braking / acceleration alarm |
| GSM jamming detection, anti jamming | With 850mAh inbuilt rechargeable battery |
| Ublox7 GPS industrial high sensitive module | Two way tracking, GPS/intelligent GSM positioning |
| OTA (Update software over the air firmware by SMS) | Powerful and multifunctional tracker for comprehensive Fleet management |
| Inbuilt 4MB data logger for saving position when in GSM/GPRS blind area | Get real time vehicle position address street name /Google map link by SMS |
| SD card data logger (Optional) | Crash sensor for accident alarm (Optional) |
| Max 4 fuel sensors, monitor petrol level (Optional) | OBD2 connector to read DTC data from ECU car computer (Optional) |
| Max 4 cameras, Photo logger function with location & driving information (Optional) | Active RFID / Passive RFID / Smart phone RFID for anti-theft and driver(student) ID identification function (Optional) |
| Multiple Geo-Fence Setting,Movement Alert,overspeed Alert,tow alert,main power cut off alert etc | cut off engine remotely ,unlock lock vehicle door |


Application

* For vehicle tracking and security
* Intelligent fleet management
* Two way communication
* Camera monitoring
* Anti jamming
* 2G 3G 4G tracker



Specification
Technical Parameters:

Power Supply

+9V - +35V / 1.5A

Backup Battery

850mAh

Dimension

104mm x 62mm x 24mm

Installation Dimension

104mm x 83mm x 24mm

Weight

150g

Operating temperature

-20° to 65° C

Humidity

5% to 95% Non-condensing

2G GSM Frequency

850/900/1800/1900Mhz

3G GSM Frequency

Version A: UMTS/HSDPA 850/1900MHz
Version E: UMTS/HSDPA 900/2100MHz
Version T: UMTS/HSDPA 850/2100MHz

GPS Module

latest GPS SIRF-Star III chipset

GPS Sensitivity

-158Db

GPS Frequency

L1, 1575.42 MHz

C/A Code

1.023 MHz chip rate

Channels

20 channel all-in-view tracking

Position Accuracy

10 meters, 2D RMS

Velocity Accuracy

0.1 m/s

Time Accuracy

1 us synchronized to GPS time

Default datum

WGS-84

Reacquisition

0.1 sec., average

Hot start

1 sec., average

Warm start

38 sec., average

Cold start

42 sec., average

Altitude Limit

18,000 meters (60,000 feet) max.

Velocity Limit

515 meters/second (1000 knots) max.

LED

2 LED lights to show GPS/GSM working status.

Flash Memory

4MB

Interface

5 digital inputs, 3 negative and 2 positive triggering;
2 analog inputs; 5 outputs.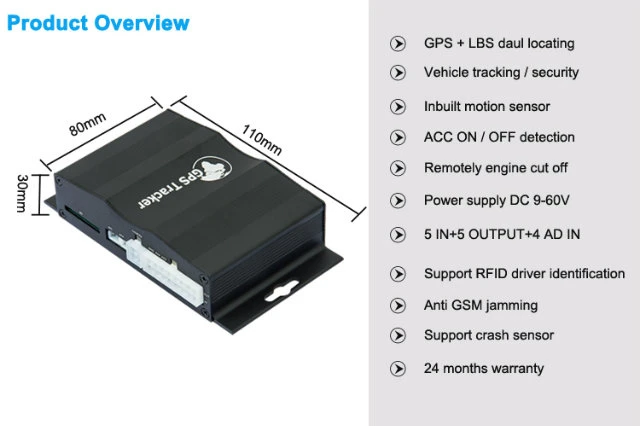 Package & Accessories

Standard accessories
* Main unit VT1000
* GSM antenna
* GPS antenna
* 16PIN Wiring
* SOS button
* 12V /24V Relay

Optional accessories
* Camera
* Ultrasonic fuel sensor
* Cuttable fuel sensor
* Temperature sensor
* Passive RFID kit
* SD card
* Crash sensor
* Smart phone reader
* OBDII connector
* Door sensor
* Alcohol Sensor
Packing Measures:

Neutral

Dimension (mm)

Weight (KG)

Capacity

Box

225x160x55

0.65

1 set

Carton

470x340x310

14

20 sets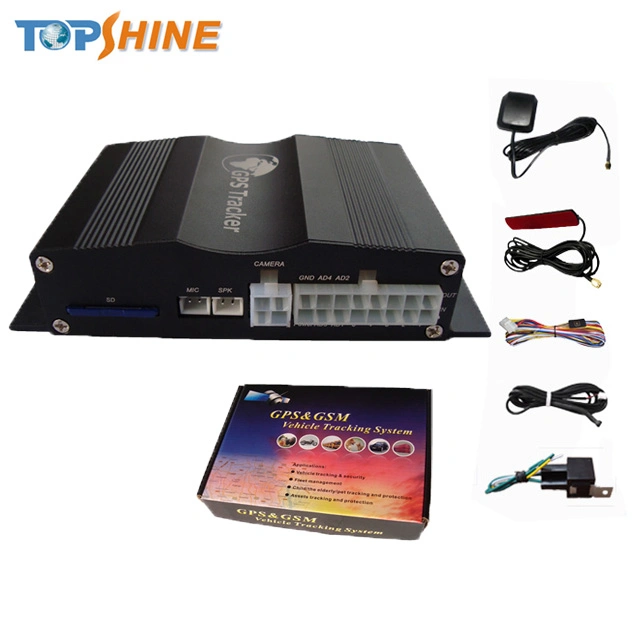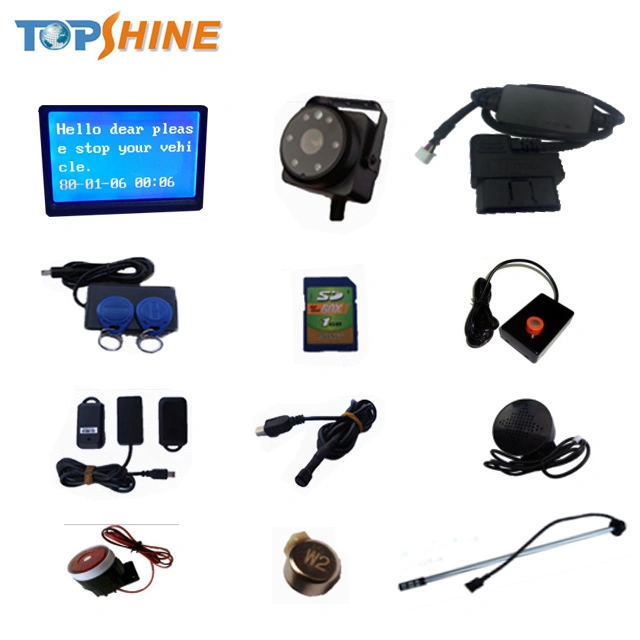 Topshine company provide free tracking software
GPS tracking platform demo :


User name: officetest1
Password: 123




Our services
Any inquiries will be replied within 12 hours on workday




Professional manuafacurer and wholesaler for 8 years.

OEM available:

Customized logo or color box

We can help you to design and put it into production about your idear

High quality, fashion design, reasonable&competitive price, fast lead time

After-sale service:

All products will have been strictly Quality checked in workshop before packing

All products will be well packed before shipping.

All our products have 24 mouths warranty, and we are sure our products will be free from maintenance

Fast delivery:

Sample order in stock; 10~100pcs: 2~3 days; 3~7 days for bulk order

Payment:

You can pay for the order via: T/T , Western Union and Paypal

Topshine Advanced Solutions
It is welcome to help you customize a pecial product with your company advantage and unique.
Just keep us posted with your new ideas, our high experienced engineers will try their best to help you achieve.
Fuel tracking solution: Monitor the fuel tank / capacity with SMS / GPRS alert.
Driver behavior management solution: harsh accelerate or braking, drive for private purposes, fuel stealing, idle alarm, task scheduling, etc.


FAQ

Q: Why the tracker can't be switched on?
A: 1. Check if wiring is correct or not.
2. Charge the tracker.

Q: No response to SMS command
A: 1. Wrong password. Please check your password.
2. No GSM mobile signal or weak GSM network. Try later.
3. Out of SIM credit. Please pop up.
4. SIM is damaged. Change a sim card.
5. SIM card is without sending function. Change a SIM or enable SMS sending function.
6. SIM card isn't installed properly.

Q: Why there is a "Last" appearing in a positon report SMS?
A: There is no GPS signal. Please take the tracker to somewhere open area.

Q: How to use tracking platform?
A: 1. Set GPRS parameter in Parameter.exe.
2. Set GPRS parameter by SMS.
(1) Set tracker ID: W<password>,010,ID
(2) Set APN: W<password>,011,APN name
(3) Set IP and Port: W<password>,012,210.209.68,9600
(4) Enable GPRS: W<password>,013,1
(5) Set report time interval: W<password>,014,00000


Q: How to connect Relay to cut off engine?
A: Cut off fuel pump wire, connect green wire of relay with fuel pump line, connect yellow wire with relay yellow wire, connect white wire with 12V power supply line.



Inquiry Now!!
Contact:Avery
W:+8614718130115