2300-2700MHz Omni Fiberglass Antenna/LTE 4G Omni-Directional Antenna(GW-OFA2327-10d)
Feature:
Exquisite appearance
Good impact resistance, waterproofing and anticorrosion ability
Full day working
Optimized dimension
High gain, low standing wave, strong anti-interference ability

Application:
2.3/2.7 GHz WLAN system
Point-to-multipoint system
Public wireless hot spot coverage
Wi-Fi system
Electrical Specifications

Frequency range(MHz)

2300~2700

Bandwidth(MHz)

400

Gain(dBi)

10

Half-power beam width(°)

H:360 V:10

VSWR

≤1.6

Input Impedance(Ω)

50

Polarization

Vertical

Maximum input power(W)

100

Lightning protection

DC Ground

Input connector type

N Female or Requested

Mechanical Specifications

Dimensions (mm)

Φ20*770

Antenna weight(kg)

0.45

Operating temperature(°c)

-40~60

Rated Wind Velocity(m/s)

60

Radome color

Gray

Mounting way

Pole-holding

Mounting hardware(mm)

c35-c50
Recommended Accessories:
1) Donor antenna: Log Periodic Antenna (9dBi,806-960/1710-2700MHz)
2) Service antenna: Omni Ceiling Antenna (3dBi,806-960/1710-2700MHz)
3) 5D-FB coaxial cable with connecter (Cable length optional)
Method of Installation:
The booster is fixed onto the wall through expansion bolts.
A. Drill holes in the selected place and install expansion bolts.
B. Align the holes with the expansion bolts, place flat washers, spring washers, and nuts in turn, and tighten the nuts to fasten the installing support.
C. Place the booster on and fasten it.
D. Connect cables and power cables to the booster respectively.
E. After installing the booster as described above, power on the booster to check the operation status.
Connection:
A. BTS Port: donor antenna cable is connected with Outdoor Port;
B. MS Port: service whip antenna is connected with Indoor Port;
C. DC IN connected with Power adaptor.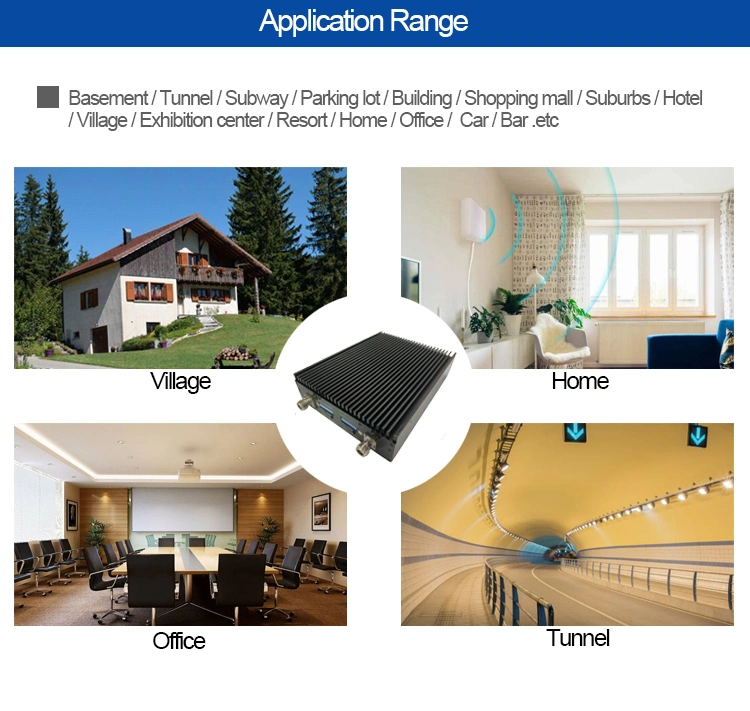 Q1.Payment Method

T/T, Western Union, Paypal, and Credit Card are available,
and we suggest paying by Alibaba Trade Assurance, the most favor, and security method.
*Other methods please us with more details.
Q2.Delivery Date&Lead Time
Quantity

Lead time

Delivery to American/Middle East/Asia/Europe

<20 pcs

3-5 business days

3-7 business days by DHL
5-7 business days by FedEx/UPS

20-100 pcs

7-15 business days

>100 pcs

15-24 business days
*
it to get the sample.
Q3. Can I customize frequencies?

Yes, we can customize 2G/3G/4G/5G/GSM/CDMA/DCS/AWS/PCS/WCDMA/LTE,etc.

Q4. What should I do if I don't know about frequency in my country?
Please feel free to us with your inquiry, we will find the frequency you need and address your problems.
More signal repeater please it!