Model: GP6000
Vehicle GPS Tracker for GPS tracking Fleet Management

Intelligent vehicle GPS tracker GP6000 suitable for fleet management and advance application demands for mobile asset remote management.
The feature of 8 I/O signal input, 6 signal output, 2 intelligent programmable port, 3 Serial port to support more than 3 kinds of different extend device at same time, excellent redevelopment frame.

Features:
l Low consumption, wide range voltage input, Automatic self-check/ protection/recovery during short-circuit
l Varity of intelligent upload mode, support angle changes uploading.
l Static Drift processing
l Built-in 3D G sensor that can suit different project application demands and intelligent detecting harsh braking alarm.
l Road and polygon shaped geo fence supported,
l Alarm for road deviation, road speeding, zone speeding, zone over time parking is available.
l More than 20 alarms are available (SMS, GPRS)
l More than 10 kinds of external devices are supported and it can connect three kinds of external devices at same time, excellent redevelopment frame.
l 43,200 pieces history data, with feature of broken-point continuingly-transferring.
l OTA

Parameters:
Type
Description


Basic function
Transmission Mode
TCP/UDP/SMS/GPRS
Data flow control / Power saving mode
Factory Setting / Define by user / GPS module power off
Intelligent time management of data uploading
Time reference / Week Reference /Day Reference
Motion detection
Build-in 3D G sensor
OTA
broken-point continuingly-transferring
Mileage Statistics
GPS mileage / electronic mileage
Remotely Listen-in
Active / Passive
Geo fence
64
Road / Polygon zone geo fence
100
Hotspot
100
Alarm type
GPS/SMS/EMAIL
Domain name supported / build-in backup IP supported
Blind area data uploading / history data intelligent uploading (43,200 pieces)
GPS open/short circuit detection / GPS signal uploading in real time.
Self-check, self-recovery, self-protection, build-in back up battery
Alarms
Data flow control / Power saving mode
Factory Setting / Define by user / GPS module power off
Alarm function
Enter/Exit geo fence alarm, overtime parking alarm, fatigue driving alarm, over speed alarm, SOS (panic button) alarm, backup battery starting alarm, illegal ignition alarm, harsh braking alarm, vehicle sliding in neutral gear alarm, fuel level change alarm, seat belt unfasten alarm, vibration alarm, tow alarm, hotspot alarm, deviation from the route alarm, over speed in certain road alarm, over speed in zone alarm, late alarm, earlier arrival alarm, temperature change alarm, tire pressure change alarm.
External Device Function
MDT (dispatching board)
Two way voice/SMS communication, dispatching.
High precision fuel level sensor
multi Analog/digital,
CCD camera
6 cameras supported
RFID/Password keyboard/Scanner/Temperature sensor/Tire pressure sensor/Active RFID/Door sensor/Drum rotation sensor
Control function
Remotely cutting off the fuel pump / 5 output control define by user
I/O Port
6 Switch signal input(4high level trigger, 2 low level trigger)
1 Analog signal input(0-5v)
1 Pulse signal input (<3.8v,2KHZ )
5 switch signal output
3 RS232 Serial port
2 Intelligent programmable port(I/O,A/D)
Parameters
Dimension(L×W×H)
121×82×29mm
Weight
820g (with standard accessories)
Working current
60-100mA
Working voltage
10-30V
Backup battery
8.4V 400mAh NI-MH battery
GPS chip
SIRF Star III
GSM
850/900/1800/1900 Mhz



Standard accessories:

GPS antenna, GSM antenna, Harness cable, SOS button ,Relay

Tracking software:

Web software

Client software

Android phone app

For Example: tracking Vehicle---B333
Real Time Tracking:
By choosing the vehicle in the list and then double click, you will see the locating is '5654 Nakidi', speed is '0', mileage is '21023km', fuel volume is '56L'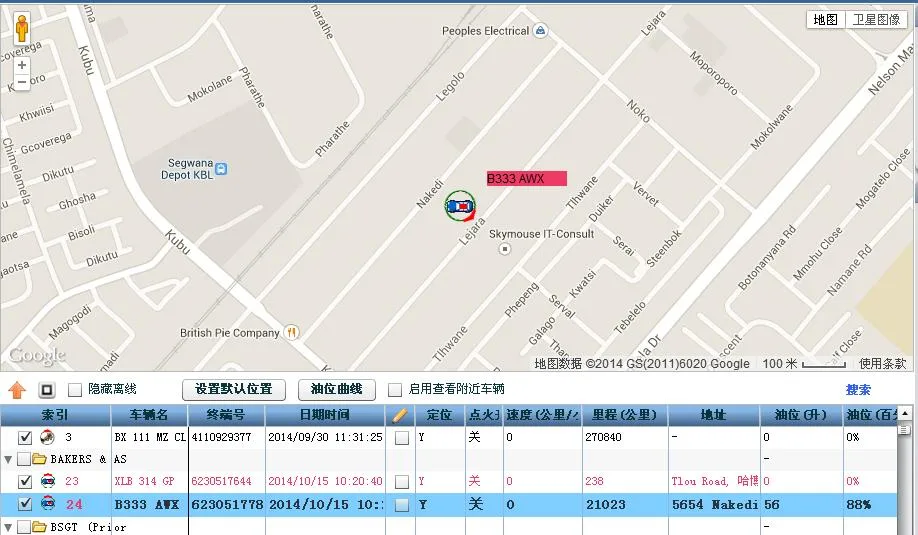 One the right side, you can check vehicle info and status:
State: 'Parking' , Driver name : '77469832' , vehicle status: ACC OFF, power supply : vehicle power supply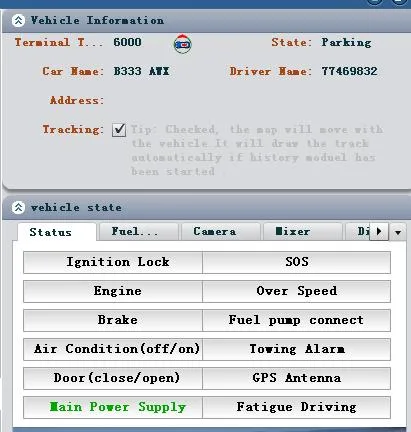 click 'oil curve', check the history fuel consumption of B333:
Green is speed, Red is fuel data, blue is mileage.
We can see around 12:00 ~ 24:00, truck is runing, fuel consumption is at one generally speed. at about 18:00, there's a refuel case about 40Liters