Model : GPS403A/B
Difference between A/B model : 403B has remote controller, 403A model don't have.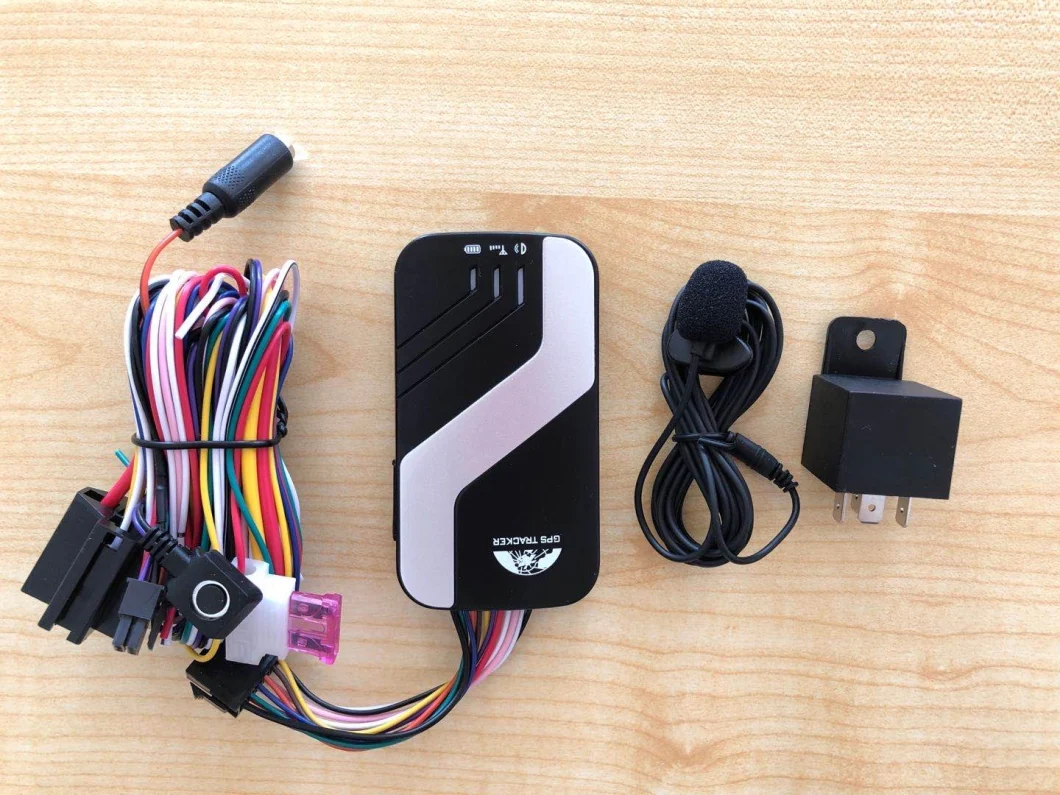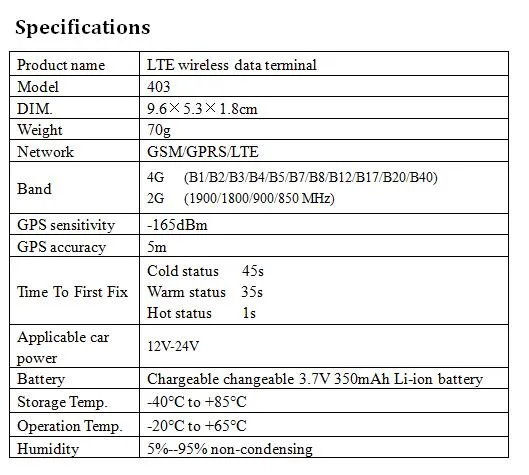 Applying directions:Personal, Motorcycle, Vehicle.
Technical specifications:
Size: 9.6 X 5.3 X 1.8cm,70g
Networks: GSM/GPRS/LTE
2G :1900/1800/900/850 MHz
4G :B1/B2/B3/B4/B5/B7/B8/B12/B17/B20/B40
GPS sensitivity: -165dBm
GPS accuracy: 5m
Time to first fix:
Cold status: 45 seconds
Warm status: 35 seconds
Hot status: 1 second
Car charger range: 12-24V
Battery: chargeable 3.7V/350mAh Li-ion
Storage temperatures: -40 to +85°C
Operating temperatures: -20 to +70°C
Humidity range: 5-95% RH (non-condensing)

GPS403A include : GPS unit ,harness cable, microphone ,relay ,manual ,box
GPS403B include : GPS unit ,remote controller,harness cable, microphone ,relay ,manual ,box

Main functions :
1. Mini size ,for car motorcycle trucks taxi ,etc
2. support 2G/4G sim cards
3. Remote immobilizing (Cut off engine , resume engine)
4. Built-in gsm gps antenna
5. auto logging : in case of no gsm coverage , tracker will store all tracking data & alarm data in sd card .
when gsm coverange is resumed , it will send data automatically to authorized phone or server .
6.Alarms
ACC working alarm
Power off alarm
shock alarm
Door open alarm
Fuel theft alarm
Low battery alarm
GPS blind Spot alert
SOS
Geo-fence
Overspeed alert
Movement alert
Multi-area management
Built in Acceleration Sensor Alarm
7.Sleep Mode: Sleep by time , sleep by shock
8.Real time tracking via SMS or GPRS (TCP/UDP)
9.Voice monitor
10.Easy switch for track or Monitor
11.Configure by USB cable

4 tracking solutions:
- SMS tracking by calling, return google map link
- Absolute street address by SMS
- free tracking web platform
- free mobile app

Warranty
1. All products have been strictly Quality Checked in house before packing.
2. All products have been well packed before shipping.
3. One year warranty is provided for all models.